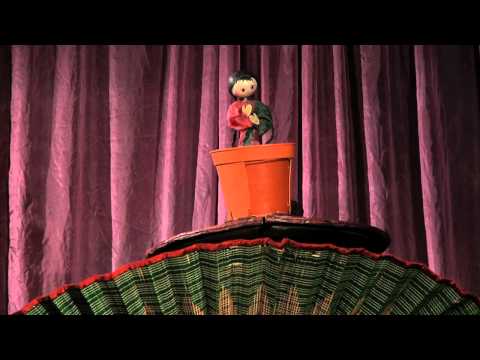 Based on the poems of Shlomit Cohen-Asif
This show is an intimate pocket theater production, representing a unique, original encounter between theater and poetry. Each of the play's short scenes is a poem or dream which materializes every time the actress finds a new object hiding in her clothing. This show gives children a window to understanding poetry via worlds that are visual, miniature and lyrical. Every poem is a dream!
Mr Jijema is a dream catcher. He keeps the dreams in a special place – a magic fan. Sometimes, when the fan is opened and it's tickled, a dream appears!
Poems include "Girl in a Flower Pot," "The Ulai-La Witch," "Princess Shin Shin," "Midday," and more. In "A Girl in a Flower Pot," the entire theater is packed into one puppeteer's pockets.
Note: The poems may be supplied in advance.
From the reviews
A modest and charming play... a collection of poems by Shlomit Cohen-Asif, served up in a very special way by Alina Ashbel, a founder of the Train Theater ... Cohen-Asif's writings seamlessly combine reality with imagination, and Ashbel manages to weave together the language of words with the richness and invention of theater ... Beautiful, recommended.Yoram Rotem, Horim VeYeladim newspaper
A solo performance from Alina Ashbel ... successfully bringing quality theater to a very young audience ... The main thing is the way Ashbel successfully sustains the children's focus and interest through small events ... She rolls out her stories and anecdotes as if she is making theatrical small talk, the essence of which is the conversation itself, the communication and chemistry between her and the children.Yehuda Biton, Haaretz
Participation in festivals
23rd International Poppentheater Festival, Dordrecht, Netherlands, 2001
The Naive Theatre from Liberec, Mateřinka Festival, 1999
International Festival of Puppet Theater, Holon
International Festival of Puppet Theater, Jerusalem
The Magic of Fairy Tales Festival, Suzanne Dellal Center, Tel Aviv
Credits
Concept, design, acting and manipulation: Alina Ashbel
Production: The Train Theater